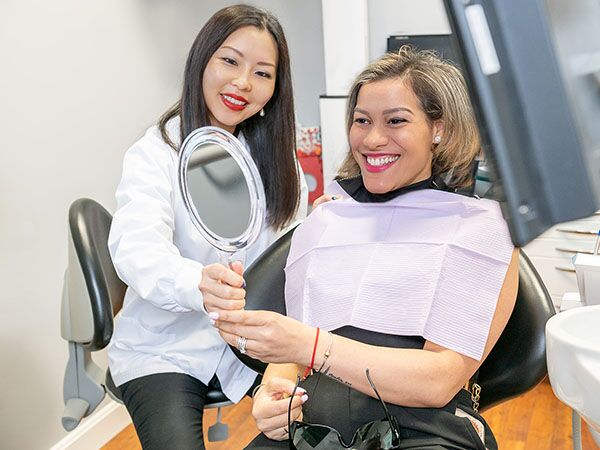 The quickest and easiest way to a straight, healthy smile!
There's no doubt about it, having a great smile is a real asset - both socially and professionally. People with straight, healthy teeth are more confident, self-assured, and out-going.
Is your smile holding you back? Invisalign® is the answer.
Invisalign® uses a set of position-aligning trays that progressively and gently move your teeth into their ideal position.
Invisalign® can be used to correct most orthodontic conditions
Both adults and teenagers can use Invisalign®
Invisalign® aligners are nearly invisible and comfortable
'The staff, without exception, is professional and compassionate. I recommend this practice to my friends
and I give them as many stars as possible!!''
Barbara S. (5-Star Google Review)
Why Has Invisalign® Become the #1 Choice for Straightening Teeth in Brookline, MA?
Here are just a few of the many reasons Massachusetts is choosing these clear aligners!

Removable aligners
The aligners trays can be removed for up to four hours a day. You can eat, brush and floss your teeth, take school photos, or attend a special event without your orthodontic treatment putting your life on hold.
Nearly Invisible
One of the best things about Invisalign® is the low visibility of the aligner trays. There are no embarrassing metal braces or wires! Invisalign®'s clear aligners will not draw attention to the fact you are straightening your teeth.

Eat What You Want
Because you can remove the Invisalign® aligners, there's no need to stop eating your favorite foods. Go ahead and enjoy that popcorn the next time you go to the movies!

Effective Treatment
Invisalign® can be used by teens and adults to treat orthodontic conditions such as overbite, underbite, crossbite, open bite, crowding, and gaps between teeth.

Healthier Smile
Straight teeth are easier to clean. Keeping your teeth and gums free from bacterial build-up will go a long way at helping you to have a healthy smile you'll be able to enjoy for a lifetime.

Fast Treatment
Invisalign® treatment is often faster than treatment with traditional braces. In some cases, three times faster! Also, there is a less need for repeated office visits.
Why Choose Smile Brookline for Your Invisalign® Treatment?
Talented doctors, caring team, excellent care - where else would you go?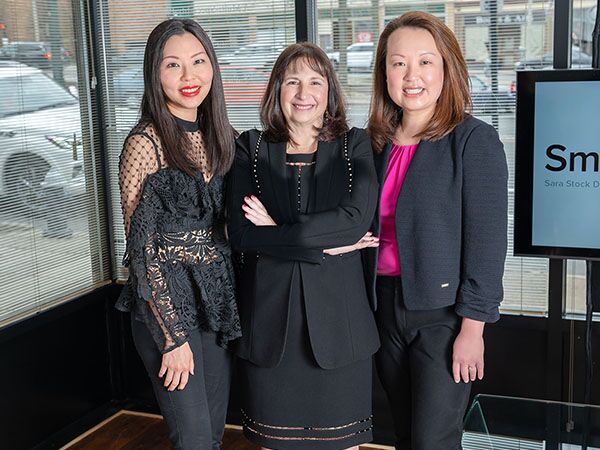 Since 2002, our cosmetic dentists in Brookline have been providing the latest techniques with Invisalign®. They're not afraid to take on complex Invisalign® cases, including making room for dental implants, to ensure you love your new smile.
It doesn't end with high-quality dentistry.
We say at Smile Brookline, "It's all about you - our patients." We practice what we preach by showing that we respect the value of your time by being on time. During your appointment, you will have our full attention!
What can you expect when you visit us?
One-on-one time with your dentist
Meticulous attention to detail
On-time appointments
Follow up phone calls to make sure you love your new smile
FAQs About Invisalign® in Brookline, MA.
FAQs About Invisalign® in Brookline, MA.
Treatment times vary according to the orthodontic needs of the patient. After an examination and consultation, your Brookline dentist will be able to tell you how long your individualized treatment will take.
In general, treatment with Invisalign® can take anywhere from 12 to 18 months. Most patients begin seeing results in just a few weeks!
The first step is a consultation. Your dentist can then design a treatment plan customized to your unique needs.
ext, we take digital impressions of your teeth to be used for making your series of customized aligners. These aligners use gentle pressure to move your teeth into their correct position and will need to be worn for a minimum of 20 hours a day to be the most effective.
You will change to the next aligner in the series about every two weeks while your dentist monitors your progress. Treatment will continue until we have achieved the beautiful, straight smile you've been wanting!
Is Invisalign expensive
Invisalign® is generally comparable to treatment with traditional braces. Some factors affect the cost of treatment, such as treatment goals, case difficulties, length of treatment, and dental insurance coverage.
Our Smile Brookline team will work with you on financing that will fit your budget.
You Can Have a Straighter Smile By Next Year!
Call us today to get started with Invisalign® in Brookline, MA