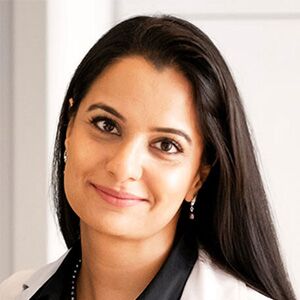 Medha Singh, D.M.D., M.S.
Dental Implants, Ridge Augmentation, and more.
Dr. Medha Singh received her doctorate, certificate in periodontology, and Master of Science from Tufts University School of Dental Medicine. Dr. Singh also received training in oral implantology from Harvard University School of Dental Medicine.
Dr. Singh has served on the faculty at both Tufts and Harvard School of Dental Medicine. At Tufts, she focused her research on drug therapies for managing periodontal disease in patients with salivary hypofunction and published her findings in various dental journals. She has also presented her research work at dental conferences, including the International Association for Dental Research, the American Academy of Periodontology, and the American Academy of Oral Medicine.
In addition, Dr. Singh has received awards for her research. In 2010, she was awarded with a scholarship granted by the International Team for Implantology (ITI) Foundation based in Switzerland.
Outside of her clinical and scholarly activities, Dr. Singh is an active participant in local community activities and organizations. She has offered her knowledge and skills as a volunteer in underprivileged communities and continues to serve as a mentor to students interested in dental careers.
Specializing in: Dental Implants, Ridge Augmentation, Sinus Lift, Gum Grafting, Crown Lengthening, Osseous Surgery, and Extractions